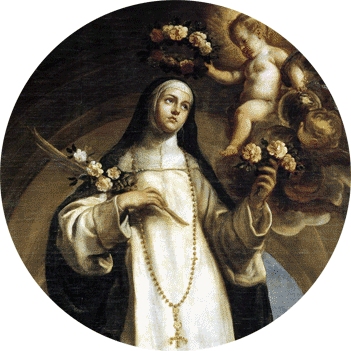 23 August
St Rose of Lima (1586-1617)
Virgin, Dominican Tertiary
Born: April 20, 1586, Lima, Viceroyalty of Peru
Died: August 24, 1617, Lima, Viceroyalty of Peru
Canonized: April 2, 1671, Rome by Pope Clement X
Major Shrine: convent of Santo Domingo in Lima, Peru
Patron of: embroiderers; gardeners; people ridiculed for their piety; against vanity;
India; Latin America; Peru; Philippines; Santa Rosa, California; Lima; Peruvian Police Force
---
The first canonized saint of the Western Hemisphere, Rose of Lima (1586-1617) might also be considered a type of the special vocation of contemplative-in-the-world. Inspired by the example of St. Catherine of Siena, Rose became a Dominican lay tertiary and devoted herself to works of active charity while living a life of extreme austerity. She longed to evangelize the Indians, not at all discouraged by the thought that they would probably kill her. St. Martin de Porres and St. John Masias were among her friends. She died at the age of 31, praying,
"Lord, increase my sufferings, and with them increase your love in my heart."
---
COLLECT PRAYER
O God, you set Saint Rose of Lima on fire with your love, so that, secluded from the world in the austerity of a life of penance, she might give herself to you alone; grant, we pray, that through her intercession, we may tread the paths of life on earth and drink at the stream of your delights in heaven. Through our Lord Jesus Christ, your Son, who lives and reigns with you in the unity of the Holy Spirit, one God, for ever and ever.
---
Symbols: Crown of roses and thorns; needle and thimble; spiked crown; iron chain; Anchor Holy Infant; roses.
Often Portrayed As: Dominican tertiary holding roses; Dominican tertiary accompanied by the Holy Infant.
Things to Do:
---
Rose of Lima, a member of the Third Order of St. Dominic, was the "first blossom of sanctity that South America gave to the world." Hers was a life heroic in virtue and penance. She expiated the evils perpetrated by the conquerors of the land in their lust for gold. For many her life was a silent sermon of penance. Pope Clement X stated in the bull of canonization:
"Since the discovery of Peru no missionary has arisen who effected a similar popular zeal for the practice of penance."
Already as a five-year-old child (born 1586), Rose vowed her innocence to God. While still a young girl, she practiced mortifications and fasts that exceeded ordinary discretion; during all of Lent she ate no bread, but subsisted on five citron seeds a day. In addition, she suffered repeated attacks from the devil, painful bodily ailments, and from her family, scoldings and calumnies. All this she accepted serenely, remarking that she was treated better than she deserved. For fifteen years she patiently endured the severest spiritual abandonment and aridity. In reward came heavenly joys, the comforting companionship of her holy guardian angel and of the Blessed Virgin. August 24, 1617, proved to be the day "on which the paradise of her heavenly Bridegroom unlocked itself to her."
Excerpted from The Church's Year of Grace, Pius Parsch
Sources: Catholic Culture,
---
Rose seems to have taken for her model St. Catherine of Siena, and, like the earlier saint, she experienced so ardent a love of God whenever she was in the presence of the Blessed Sacrament that exaltation completely filled her soul. Yet Rose was not without a practical side. Her father had been well-to-do, but when he lost money in mining ventures, the family's fortunes reached a very low ebb. Rose helped out by selling her fine needlework; she also raised beautiful flowers and these too were taken to market. One of her brothers, Ferdinand, was sympathetic and understanding toward this sister who was so markedly "different." As she grew to maturity, her parents were anxious to have Rose marry, and indeed there were several worthy aspirants for her hand. Rose did not wish marriage, and, to end the arguments and offers, she joined the Third Order of St. Dominic, donned the habit, and took a vow of perpetual virginity.
For many years Rose lived virtually as a recluse. There was a little hut in the family garden, and this she used as an oratory. She often wore on her head a circlet of silver studded on the inside with sharp points, in memory of the Lord's crown of thorns. Other forms of penitence which she inflicted on her body were floggings, administered three times daily, the wearing of a hair shirt, and the dragging of a heavy, wooden cross about the garden. She rubbed her lips with gall and often chewed bitter herbs to deaden the sense of taste. Both eating and sleeping were reduced to a minimum. Naturally her health was affected, but the physical disorders which resulted from this regime-stomach ailments, asthma, rheumatism, and fevers-were suffered uncomplainingly. This manner of life offended her family, who preferred their daughter to follow the more conventional and accepted ways of holiness. Finally, when Rose began to tell of visions, revelations, visitations, and voices they deplored her penitential practices more than ever. She endured their disapproval and grew in spiritual fortitude.
In spite of the rigors of her ascetic life, Rose was not wholly detached from happenings around her, and her awareness of the suffering of others often led her to protest against some of the practices of the Spanish overlords. In the new world, the discovery of unbelievable mineral resources was doing little to enrich or ennoble the lives of the Peruvian natives. The gold and silver from this land of El Dorado was being shipped back to strengthen the empire and embellish the palaces and cathedrals of Old Spain, but at its source there was vice, exploitation, and corruption. The natives were oppressed and impoverished, in spite of the missionaries' efforts to alleviate their miseries and to exercise a restraining hand on the governing class. Rose was cognizant of the evils, and spoke out against them fearlessly. Sometimes she brought sick and hungry persons into her own home that she might better care for them.
For fifteen years Rose bore the disapproval and persecution of those close to her, as well as the more severe trial of desolation of soul. At length an examination by priests and physicians was indicated, and this resulted in the judgment that her experiences were indeed supernatural. Rose's last years were passed in the home of a government official, Don Gonzalo de Massa. During an illness towards the end of her life, she was able to pray,
"Lord, increase my sufferings, and with them increase Thy love in my heart."
This remarkable woman died on August 25, 1617, at the age of thirty-one.
Not until after her death was it known how widely her beneficent influence had extended, and how deeply venerated she was by the common people of Lima. When her body was borne down the street to the cathedral, a great cry of mourning arose from the crowd. For several days it was impossible to perform the ritual of burial on account of the great press of sorrowing citizens around her bier. She was finally laid to rest in the Dominican convent at Lima. Later, when miracles and cures were being attributed to her intervention, the body was transferred to the church of San Domingo. There it reposes today in a special chapel. Rose of Lima was declared patroness of South America and the Philippines; she was canonized by Pope Clement in 1671, August 30 being appointed her feast-day. This holy woman is highly honored in all Spanish-American countries. The emblems associated with her are an anchor, a crown of roses, and a city.