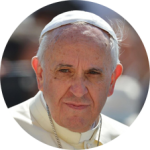 NOV 2018
Christians must provide credible witness with their lives
Friday, 30 November 2018 - Pope Francis at Mass, Casa Santa Marta (Vatican News)
So-called Christian societies will end if pagan
Thursday, 29 November 2018 - Pope Francis at Mass, Casa Santa Marta (Vatican News)
How do we want to meet the Lord?
Tuesday, 27 November 2018 - Pope Francis at Mass, Casa Santa Marta (Vatican News)
'Generosity enlarges the heart'
Monday, 26 November 2018 - Pope Francis at Mass, Casa Santa Marta (Vatican News)
Pope to Choirs: 'Help community sing, don't replace its voice'
Saturday, 24 November 2018 - 3rd International Meeting of Choirs, Saturday audience, Paul VI Hall, Vatican (Vatican News)
Martyrdom doesn't make the news
Thursday, 15 November 2018 - Pope Francis at Mass, Casa Santa Marta (Vatican News)
Bishop, a humble and meek servant, not a prince
Monday, 12 November 2018 - Pope Francis at Mass, Casa Santa Marta (Vatican News)
'Murmuring'; and instead of dialoguing, we secretly complain
Thursday, 8 November 2018 - Pope Francis at Mass, Casa Santa Marta (Vatican News)
'Witness' always breaks a habit. It also puts you at risk
Thursday, 8 November 2018 - Pope Francis at Mass, Casa Santa Marta (Vatican News)
Bearing witness, complaining, asking questions
Thursday, 8 November 2018 - Pope Francis at Mass, Casa Santa Marta (Vatican News)
OCT 2018
Three forms of poverty
Thursday, 18 October 2018 - Pope Francis at Mass, Casa Santa Marta (Vatican News)
Indifference kills
Wednesday, 17 October 2018 - Pope Francis, General Audience, St Peter's Square (Vatican News)
Be careful around rigid Christians
Tuesday, 16 October 2018 - Pope Francis at Mass, Casa Santa Marta (Vatican News)
The poor cannot wait
Tuesday, 16 October 2018 - Pope Francis message to FAO to mark World Food Day (Vatican News)
SEP 2018
The Lord keeps giving us new chances because his greatest joy is to see us reborn
Tuesday, 25 September 2018 - Pope Francis meets with Beneficiaries of the Church's Charitable Works in Tallin - Apostolic Visit (Vatican News)
Instead of looking at ourselves, we tend to look at others, at their sins, and to talk about them
Friday, 21 September 2018 - Pope Francis at Mass, Casa Santa Marta (Vatican News)
We must not be afraid to contemplate the cross as a moment of defeat, of failure
Friday, 14 September 2018 - Pope Francis at Mass, Casa Santa Marta (Vatican News)
Pope To Youth: Jesus doesn't want you on the bench, He asks you to go out to the world
Monday, 17 September 2018 - Pope Francis, Pope at central square in Palermo, Sicily, Italy (xt3.com and Rome Reports)
The profession of faith in Jesus Christ cannot stop at words, but must be authenticated by concrete choices and gestures, by a life sealed with the love of God and neighbor
Sunday, 16 September 2018 - Pope Francis at Sunday Angelus (CNA/EWTN News)
The worst kind of slavery is that of one's Ego
Wednesday, 12 September 2018 - Pope Francis, General Audience, St Peter's Square (Vatican News)
Jesus always acts with discretion. He does not want to impress people
Sunday, 9 September 2018 - Pope Francis at Sunday Angelus (CNA/EWTN News)
Do not be deaf or silent in the face of suffering
Sunday, 9 September 2018 - Pope Francis at Sunday Angelus (Vatican News)
Discern true rest from false rest
Wednesday, 5 September 2018 - Pope Francis, General Audience, St Peter's Square (Vatican News)
Make an examination of conscience everyday
Tuesday, 4 September 2018 - Pope Francis at Morning Mass, Casa Santa Marta (Vatican News)
Be vigilant so that our way of thinking and acting is not polluted…by vanity, greed, pride
Sunday, 2 September 2018 - Pope Francis at Sunday Angelus (Vatican News)
AUG 2018
God is calling on families 'to participate' in His dream
Wednesday, 29 August 2018 - Pope Francis, General Audience, St Peter's Square (Vatican News)
JUL 2018
Don't waste food, don't be indifferent to the world's cry of hunger
Sunday, 29 July 2018 - Pope Francis at Sunday Angelus (Vatican News)
JUN 2018
Forgiveness, prayer, and love for those who seek to destroy us is the path Jesus has laid out for us
Tuesday, 19 June 2018 - Pope Francis homily at Morning Mass, Casa Santa Marta (Vatican News)
If you want to destroy institutions or people, you start by speaking ill of them. This is the "slanderous communication"
Monday, 18 June 2018 - Pope Francis at Morning Mass, Casa Santa Marta (Vatican News)
The Kingdom of God grows by its own power; mysteriously
Sunday, 17 June 2018 - Pope Francis at Sunday Angelus (Vatican News)
Exploiting women is a sin against God
Friday, 15 June 2018 - Pope Francis homily at Mass, Casa Santa Marta (Vatican News)
Migration can enrich society
Thursday, 14 June 2018 - Pope Francis message to 2nd Holy See – Mexico Conference on International Migration (Vatican News)
Just as we should never think that we know everything, we should never fear to try to learn more
Thursday, 14 June 2018 - Pope Francis to Participants at Vatican Observatory Summer School in Astrophysics (Vatican News)
Jesus desires reconciliation
Thursday, 14 June 2018 - Pope Francis homily at Mass, Casa Santa Marta (Vatican News)
Christians must pursue the path of true life, true love, true wealth
Wednesday, 13 June 2018 - Pope Francis, General Audience, St Peter's Square (Vatican News)
Envy and jealousy for someone else's goodness and good works can lead to false accusations.
Sunday, 10 June 2018 - Pope Francis at the Angelus (Vatican News)
God's love has no need for words but for concrete gestures.
Friday, 8 June 2018 - Pope Francis homily at Mass, Casa Santa Marta (Vatican News)
Christian memory is the salt of life. Remember your first encounter with Jesus; and those who transmitted the faith to us.
Thursday, 7 June 2018 - Pope Francis homily at Mass, Casa Santa Marta (Vatican News)
Only the Eucharist satisfies hearts
Sunday, 3 June 2018 - Pope Francis homily at Mass on the Solemnity of Corpus Christi (CNA/EWTN News)
Overcome silent collusion
Sunday, 3 June 2018 - Pope Francis homily at Mass on the Solemnity of Corpus Christi (Vatican News)
Eucharist burns away selfish attitudes
Sunday, 3 June 2018 - Pope Francis at Sunday Angelus on the Solemnity of Corpus Christi (Vatican News)
the Devil is behind every persecution
Friday, 1 June 2018 - Pope Francis homily at Mass, Casa Santa Marta (Vatican News)
APR, MAY 2018
Let yourselves be shaped by the Spirit
Wednesday, 30 May 2018 - Pope Francis, General Audience, St Peter's Square (Vatican News)
Reject worldly patterns of behaviour that take away our freedom.
Tuesday, 29 May 2018 - Pope Francis at Mass, Casa Santa Marta (Vatican News)
Even when man, out of his own shame, commits serious sins and goes against God, he continues to be a child of God because God never disowns his children.
Wednesday, 9 May 2018 - Pope Francis, General Audience, St Peter's Square (Vatican News)
Without love, the Church cannot grow, and is transformed into an empty institution, made up of appearances and actions without fecundity.
Thursday, 26 April 2018 - Pope Francis, Morning Mass, Casa Santa Marta (Vatican News)
Evangelization is the Spirit's work
Thursday, 19 April 2018 - Pope Francis, Morning Mass, Casa Santa Marta (Vatican News)
Sign of Cross — Reminder of Baptism
Wednesday, 18 April 2018 - Pope Francis' catechesis on Baptism, General Audience, Vatican (Vatican News)
The Church needs prophets
Tuesday, 17 April 2018 - Pope Francis Homily, Morning Mass, Casa Santa Marta (Vatican News)
Follow Jesus out of faith, not self-interest
Monday, 16 April 2018 - Pope Francis Homily, Morning Mass, Casa Santa Marta (Vatican News)
Christ gives true freedom
Friday, 13 April 2018 - Pope Francis Homily, Morning Mass, Casa Santa Marta (Vatican News)
Easter joy brings obedience, witness, realism
Thursday, 12 April 2018 - Pope Francis Homily, Morning Mass, Casa Santa Marta (Vatican News)
FEB, MAR 2018
Jesus risks himself in service
Maundy Thursday, 29 March, 2018 - Pope Francis to inmates, Regina Coeli prison, Mass of the Lord's Supper, Vatican (Vatican News)
Easter Triduum is center of Christian faith
Wednesday, 28 March 2018, General Audience, Vatican (Vatican News)
Our Lady is a gift of the Trinity
Saturday, 10 March 2018, Vatican (Vatican News)
Jesus calls us with the sweetness and confidence of a Father
(There are no threats in the confessional – only forgiveness)
Tuesday, 27 Feb 2018, Casa Santa Marta, Vatican (Vatican News)
Be warned against the temptation of 'showing off' by fasting: [...] by letting people know [...] so that people think 'what a good person'. This is a trick. It's pretending to be virtuous.
Friday, 16 Feb 2018, Casa Santa Marta, Vatican (Vatican News)
How is your heart? Is it strong? Does it stay faithful to the Lord, or is it slowly sliding away?
Thursday, 8 Feb 2018, Casa Santa Marta, Vatican (Vatican News)
We listen to the Gospel, and we must respond with our lives. (Homily to be brief; well-prepared)
Wednesday, 7 Feb 2018, General Audience, Vatican (Vatican News)
Teach the people to adore in silence
Monday, 5 Feb 2018, Casa Santa Marta, Vatican (Vatican News)
DEC, JAN 2018
Shepherds should show tenderness and closeness of Jesus
Tuesday, 30 Jan 2018, Casa Santa Marta, Vatican (Vatican News)
There is no humility without humiliation
Monday, 29 Jan 2018, Casa Santa Marta, Vatican (Vatican News)
We do not pray as "parrots" and without "interest" in what we ask for. We beg the Lord to "help our little faith" even in the face of difficulties.
Pope Francis on Christian Prayer - Friday, 12 Jan 2018, Morning Mass at Casa Santa Marta, Vatican (Vatican News)
Pastor's authority comes from closeness to God and people ‎
Tuesday, 9 Jan 2018 - Morning Mass at Casa Santa Marta, Vatican (Vatican News)
Contempt for the weak is work of Satan
Monday, 8 Jan 2018 - Morning Mass at Casa Santa Marta, Vatican (Vatican News)
Devotion to Mary is not spiritual etiquette; it is a requirement of the Christian life
Monday, 1 Jan 2018 - Solemnity of Mary Mother of God, Mass in St. Peter's Basilica (CNA)
Humanity is precious and sacred to the Lord. Henceforth, to serve human life is to serve God.
Monday, 1 Jan 2018 - Solemnity of Mary Mother of God, Mass in St. Peter's Basilica (Vatican News)
All of Mass is important - don't be late!
Wednesday, 20 Dec 2017 - Vatican (Catholic News Agency)
It is the the Mass that defines Sunday for Christians.
What sort of Sunday can it be if it is lacking an encounter with the Lord?
Wednesday, 13 Dec 2017 - General Audience, Vatican (NEWS.VA)
Being humble means accepting humiliation like Christ
Tuesday, 5 Dec 2017 - Chapel, Casa Santa Marta, Vatican (NEWS.VA)
Pope's Monthly Prayer Intention
December 2018
In the Service of the Transmission of Faith
December 2018. The Pope Video: Let us listen to how others speak and live, and let us communicate the Gospel in such a way that they can receive it in their heart. This way, we can be sure they´ll understand us. Once again, it´s simply a matter of following the example of Jesus Christ, the master of communicating the faith.
"If you want to share your faith through the word, you have to listen much and carefully.
Let us imitate the style of Jesus, who adapted himself to the people He had in front of Him so as to bring God´s love to them."
"Let us pray that people, who are involved in the service and transmission of faith, may find, in their dialogue with culture, a language suited to the conditions of the present time, in their dialogue with people´s hearts, and above all, by listening much."
Points for Meditation
What is the basis of my faith in God?
What talents do I have that can be shared to transmit faith and glorify the Lord?
What is a place or a person that I encounter lacking in faith and longing for the knowledge and love of our God?